I went on a home visit with Stephanie, our Welcome Baby Coordinator and the mother had a great blanket for her baby. We were so impressed with the blanket I tried to find a similar one on the web with a tutorial. I found some similar blankets, but no tutorials. I found a tutorial that might work for those of you who are seamstresses and can use it to make your own! These blankets are super cute and will help your infant with sensory development. If you add some parchment paper in between the fabric it adds some more "crinkle" to the blanket!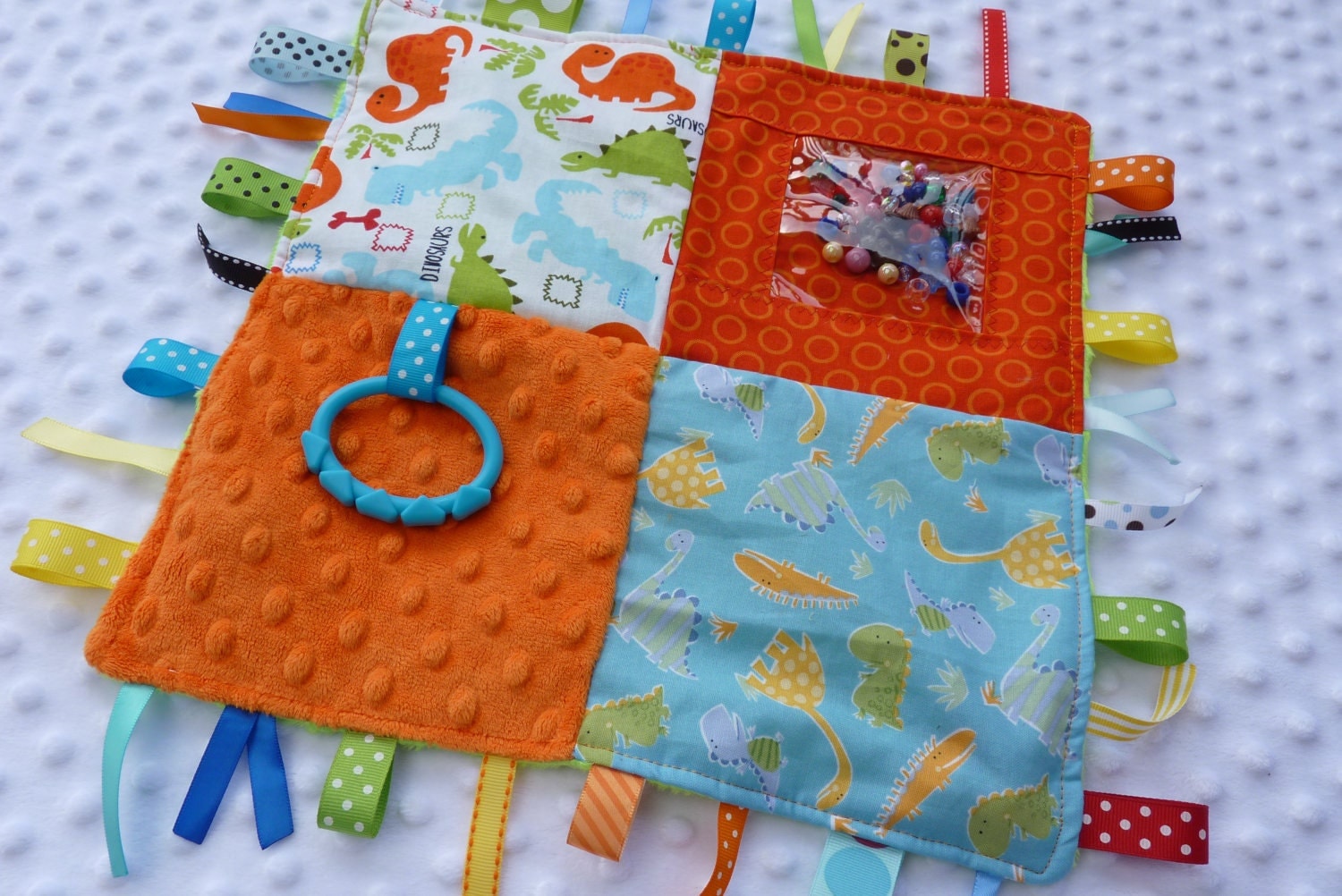 Photo
This sensory square will become one of your babies favorite toys. It will help your babies brain develop by providing sensory stimulation of: touch, taste, sight, and hearing, Your baby will be delighted to play with it. It is big enough that it will keep your little one exploring from the four different components of this toy.
Touch: Babies will develop fine motor skills by feeling the ribbons, plastic vinyl, beads, and different textures of fabric.
Hearing: jingle, rattle, crinkle, and squeak.
Taste: ribbons, fabric, and teething ring
Sight: babies prefer bright fun stimulating colors, and assortment of colorful beads
The front side:
1.CRINKLE: Dinosaur Babies, 100% cotton with crinkle material sewn inside, that makes a fun crunch and crackle when twisted or squeezed.
2.BEADS: Juicy Orange vinyl window filled with fun collection of beads that rattle.
3.SQUEAK: Orange minky dots, with squeaker. Warm and natural batting sewn inside.
4.JINGLE: Lime-green minky-teething ring hanging from ribbon with jingle bells. Warm and natural batting sewn inside.
The back is a soft light blue minky dot fabric.
There is over 25 different ribbons in different colors, textures, thickness that have been trippeled stitched for durability. The top had been stitched for extra durability. I assure you these ribbons will not pull out! Ribbons have been heat-sealed to avoid fraying.
Size: aprox: 11" 1/2 X 11 1/2"(not including ribbons) which is the perfect size to keep your baby exploring. The ribbons add another 2 1/2 inches on all sides.
These are great for babies and toddlers of all ages. It is big enough that it can provide them with hours of stimulation but small enough that you can fold it up and throw it in the diaper bag. This will make a great unique gift for the mother who has everything.
For a tutorial of a similar blanket, click here